Every green choice we make has a ripple effect
With a name like Ice River Sustainable Solutions, it shouldn't come as a surprise that we're big believers in environmental corporate responsibility. Having overcome many challenges in pursuit of more eco-friendly operations, our company has become a forward-thinking leader in the industry, focused on educating consumers, manufacturers and government organizations. As more and more businesses get on board, we continue to grow our efforts. Our hope is that other manufacturers will all put the same emphasis on sustainability.
The possibilities of eco-friendly design are endless.
By operating our own recycling facility in a closed loop (from curbside collection to bottling natural spring water responsibly and recycling plastic packaging again and again), we eliminate the need to purchase new virgin PET. Manufacturing our bottles from 100% post-consumer recycled content is how we built a well-established circular economy for PET plastic in Ontario.
Ice River products and packagiNG are designed for a circular economy.
Our intentions are always green.
We have a big environmental responsibility which is why our beliefs always align with our actions – it's how we hold ourselves accountable. This is our commitment to sustainability within our communities.
Operational Excellence
Dedicated to eliminating waste to improve efficiency and quality.
Closed-Loop Recycling
Innovators of simple, integrated and sustainable solutions.
Water Stewardship
Motivated to protect one of our most precious resources through education, outreach and responsible practices.
Teamwork
An authentic, proud and passionate team working towards a better future.
Quality Bottled Water
Producers of pure natural spring water that's good for both people and the planet.
Partnerships
Building relationships with customers and communities to affect change and achieve mutual success.
Our Future
We believe there's enough plastic in the world and we need to find ways to reuse it by continually offering innovative solutions for sustainable packaging and products.
Sustainability can be even more rewarding.
Our hard work has received some much-appreciated recognition over the years. We've won some honourable industry awards for our innovation in the environmental category.
UGI Award
Best Private Label Supplier – 2022
UGI Award
Best Private Label Supplier – 2021
Zenith Global Bottled Water Award
Best Packaging Solution – 2017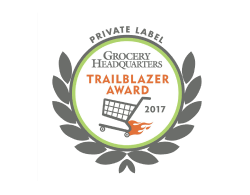 Grocery Headquarters Trailblazer Award
Innovation in the Private Label Category – 2017
Store Brands Magazine Editor's Pick
Bronze Award In The Best New Ready-to-Drink Beverage Product Category – 2017
Loblaw Corporate Sustainability Award
Corporate Social Responsibility Supplier of the Year – 2015
DuPont Innovation in Packaging
Responsible Packaging Category – 2014
Walmart Sustainability
Vendor Sustainability – 2011
Proud partner in creating a healthy planet
We're doing all we can to encourage sustainability to protect the environment for generations to come. But we know we can't do it alone. That's why we work with organizations that share our vision of a better world.
If you feel like you share our sustainable work ethic.